please allow 2-3 days for your order to be processed.
CHRISTMAS IS HERE!
we've got you covered
new to the brand?
it's a blast!
for the finishing touch
shop now
our famous drying towel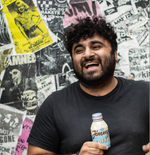 DETAILING JUST GOT SIMPLE
Everyday I push forward to bring my vision of inclusive, easy to use car care to life. By creating high quality products at a reasonable price, with simple instructions, I aim to create a community of both novice and expert detailers alike.